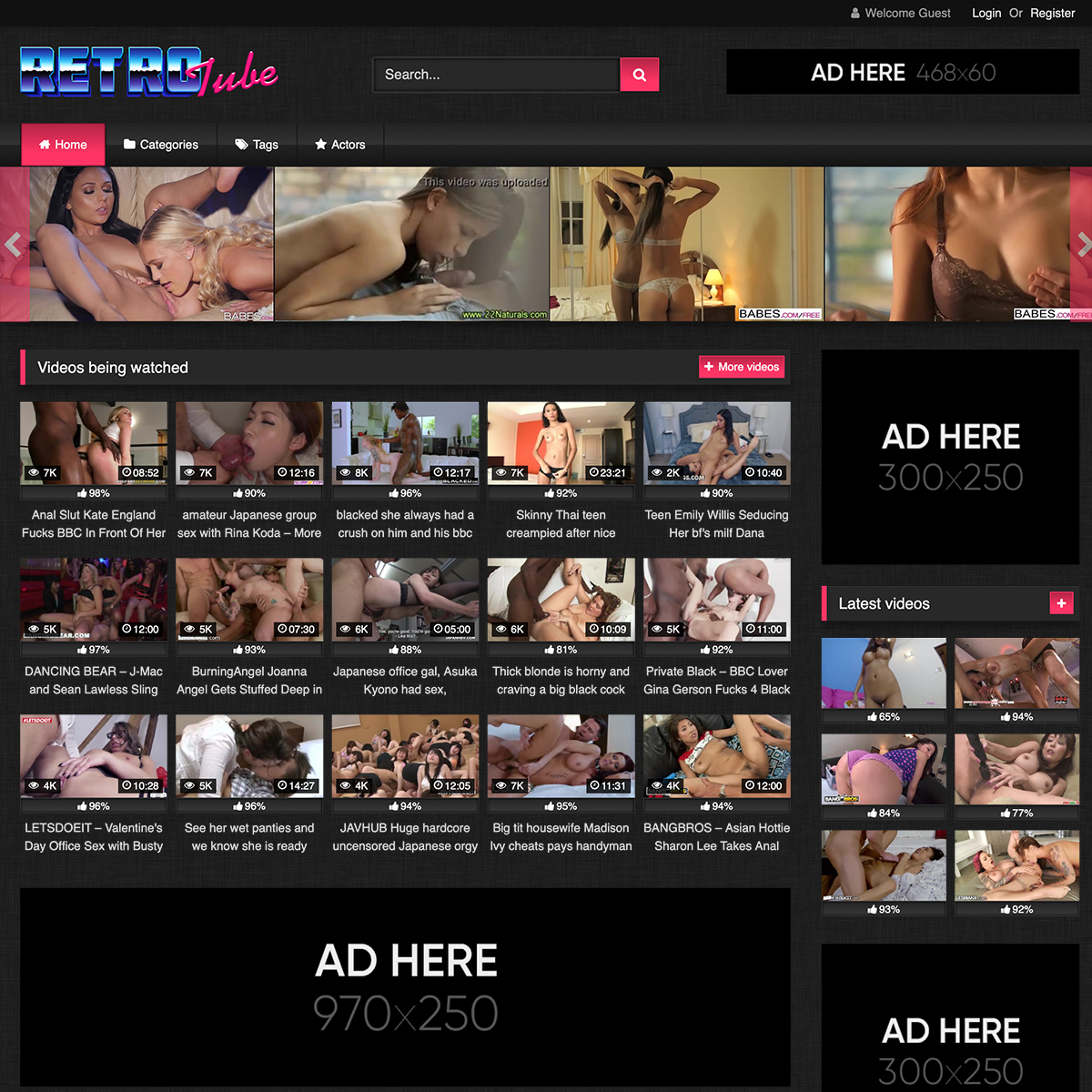 RetroTube Theme

The RetroTube theme is an adult video tube site WordPress theme. A retro-style theme theme that includes an additional 8 preset porn niche styles to create a range of porn tubes depending on the content theme.
9-in-1 Styles
Fully Responsive
HTML5 Video Player
Video Thumbnails
Multiple Ad Spots
User Uploads Form
Photo Galleries
Blog Section
Featured Carousel
Plugins Compatible
Includes Page Templates
Mobile Template
SEO Friendly
RetroTube from wp-script is a tube site which can be themed from a choice of 9 different niche styles, all responsive designs that are compatible across browsers, displays on all devices.
Built with standards-compliant HTML, including an HTML5 video player that is cross browser compatible, making sure your site is not only accessible but the videos play across all platforms.
Highly customisable dependant on your chosen niche, it includes video widgets to allow you to display your best content in multiple locations. Easily build your own niche adult tube and capitalise on the benefits of focussing your efforts on your chosen category.
Allow users to submit their own videos using the video upload form and benefit from others uploading content, generating you more traffic and sales for much less work!
A choice of ad space, multiple spots on different pages, allow you to target your audience with highly relevant ads dependent on every single video.
DOWNLOAD RetroTube

⭐⭐⭐⭐⭐ by wpscript
It's awesome how it is 9-in-1 theme, the single Retro Tube theme includes an additional 8 preset styles that you can just switch your site's style to anytime you want. I have 9 different niche porn tube sites running on this theme, each using a different style.
⭐⭐⭐⭐⭐ by pacman
I run an massive 80's porn videos tube, I have also used this theme to setup a classic arcade games tube site. I couldn't believe my luck when I found the RETROTube theme. One theme that does both my sites and I am currently contemplating which porn theme to choose next to set up another site using one of the other free styles.
⭐⭐⭐⭐⭐ by Discoman
Love this theme and how you can choose from different styles which is very user friendly, even for a WordPress beginner like myself. I still can't believe that I actually setup and run a tubesite now, it was a cinch. Having set up my first site and got it running on autopilot, I am ready to set up another using one of the other niche styles.
⭐⭐⭐⭐⭐ by Retrotube_nulled
Ended up here after searching google for a free script, I admit I'm a cheapskate and use a lot of free clones, but I have changed my ways after taking a liking to this theme. I just paid for software for the first time and it was actually that cheap it felt better than using a nulled or free.